Wailea Beach Villas is the newest vacation property on Maui and offers the best of both worlds, the
perfect union of a private residence and beachfront resort.
If you prefer spaciousness and the utmost in comfort for your family, then instead of getting two or three hotel rooms, this property offers an ideal alternative. Every superlative applies to this property but let's just say it's the ultimate residence resort in all of Hawaii.
We only offer specific unit guarantees at Wailea Beach Villas!
Property location: condo map , Google map
Property layout: by map , by aerial photograph
Click here to CHECK AVAILABILITY by email and reserve this property;
OR we can help you better if you take a minute to complete our REPLY FORM.

Oceanfront adult-only infinity pool and hot tub.

Wailea Beach, just steps away from the Wailea Beach Villas.

Personal chaise loung chairs for Wailea Beach Villas guests

Beachfront adult-only pool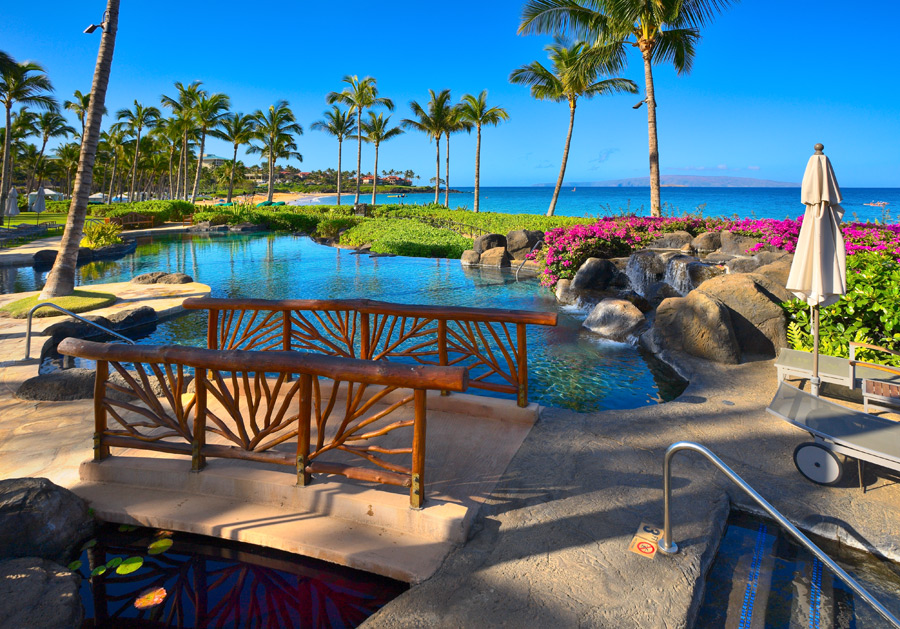 Hot tub at adult-only pool

Family pool and hot tub, located at the center of the property.

Private plunge pool

Oceanview from front-of-property cluster villa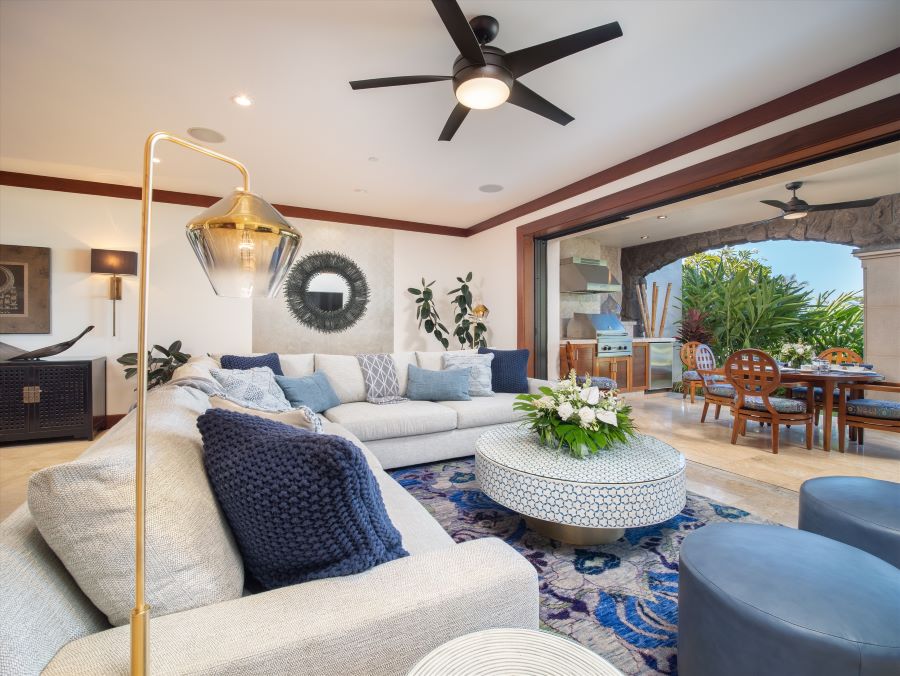 Spacious living room opens to private deck and BBQ

Fully equipped gourmet kitchen (Villa #C-301)

Master bedroom (Villa# A-201)

Master bedroom ensuite bathroom (Villa# A-201)

Aerial view of Wailea Beach Villas
DETAILS:
98 private villas with 20 elevators offering individual unit key-controlled accessibility
2.0 to 3.5 bedrooms with the finest linens
2.0 to 3.5 baths with deep soaker tubs and double vanities in the master bath
Spacious interiors: 1900 – 3100 square feet
Home entertainment center with wide screen HD TV/DVR/DVD and Surround Sound
Gourmet kitchens with two sub-zero fridges, top-of-the-line appliances, granite counter tops
Private lanais with expansive garden or ocean views
Built-in gas BBQ's and deck furniture for outdoor meals
Central a/c and ceiling fans in each room
TV/DVD in each bedroom
Laundry room with washer/dryer
Private phone lines with voice messaging
Wi-Fi and ethernet internet access
Wall safes in each unit
Large central family swimming pool plus separate adults-only pool, plus various plunge pools and jacuzzi's
Modern fitness facility with lockers and showers
Business Center
Activity Center with game room
Gas tiki-torches light up the property at night
Lush tropical gardens throughout
Long golden sands of Wailea Beach provide warm waters for swimming, snorkeling, boogie-boarding, or even building a castle of your own
Fine restaurants and "Shops of Wailea" are just out the door
Complimentary valet or self-parking
24-hour gated security with additional property patrolled security
Concierge assistance included
Room service available 8:30 a.m. to 9:30 p.m.
Beach services available
Butler and private chef services available
Personal childcare services available
In room spa services available
Golf discounts at 5 championship courses located within a 5-minute drive
Our opinion: the BEST family-resort property imaginable, period
VALUE-ADDED FEATURES:
PRICE:
$750 and up/NIGHT plus tax
Inquire for price quote for specific unit guarantees.
- Price varies depending on unit and season.
- 3-7 night minimum stay required, depending on unit and season.
- 10-12 night minimum stay required for Christmas & New Year's dates, depending on unit.
- Contact us for best price quote for your specific dates.
Click here to CHECK AVAILABILITY by email and reserve this property;
OR we can help you better if you take a minute to complete our REPLY FORM.

Click these links to view a specific unit:
3-Bedroom, Front-of-Property Clusters:
3-Bedroom/3-Bath, Beachfront: A-201, Royal Ilima
3-Bedroom/3.5-Bath, Gardenview: C-201, Castaway Cove
3-Bedroom/3.5-Bath, Oceanview: C-301, Sun Splash
3-Bedroom/3.5-Bath, Oceanview: D-302, Bella Luna
3-Bedroom/3.5-Bath, Oceanview: E-202, Ocean Pearl
3-Bedroom/3.5-Bath, Oceanview: F-102, Bali Hai Pool Villa
3-Bedroom/3.5-Bath, Oceanview: G-102, Floral Gardens Pool Villa
2.5-Bedroom, Back-of-Property Stacks - 1st floor to 5th floor:
2.5-Bedroom/2-Bath, Oceanview, 4th floor: K-407, Grand Seascape
2.5-Bedroom/2-Bath, Oceanview, 5th floor: M-511, Regal Mandalay

3-Bedroom, Back-of-Property Stacks - 2nd floor to 5th floor:
3-Bedroom/3-Bath, Oceanview, 2nd floor: M-212, Azure Azul
3-Bedroom/3-Bath, Oceanview, 3rd floor: J-305, Aqua Lani
3-Bedroom/3-Bath, Oceanview, 4th floor: J-405, Sea Breeze Suite
3-Bedroom/3-Bath, Oceanview, 5rd floor: J-505, Orient Pacific Suite
3-Bedroom/3-Bath, Oceanview, 5th floor: H-501, Wailea Paradise
3-Bedroom/3-Bath, Oceanview, 5th floor: K-507, Wailea Seashore Suite

3.5-Bedroom, Back-of-Property Stacks - 3rd floor to 5th floor:
3.5-Bedroom/3-Bath, Oceanview, 3rd floor: K-308, Blue Horizons
3.5-Bedroom/3-Bath, Oceanview, 5th floor: K-508, Sandy Surf
3.5-Bedroom/3-Bath, Oceanview, 5th floor: L-509, Sandcastles Suite
Wailea Beach Villas property layout: Layout by map , Layout by aerial photograph
Property location: condo map , Google map
GUEST TESTIMONIAL:
"I am writing to express my sincere appreciation for how Maui Vacation Advisors handled my family vacation plans and accommodations during the recent Christmas and New Year's Holiday at the Wailea Beach Villas. From my very first contact with Maui Vacation Advisors, I was very impressed with your follow-through and attention-to-detail. Leading up to the vacation, I received constant updates from you that were very helpful. When we arrived at the Wailea Beach Villa's, the property manager representative was waiting to greet us. She was very helpful and informative as she spent a considerable amount of time with my family, showing us all the amenities the villa had to offer. The villa was spotless and very well-stocked with all the appliances, utensils, bedding, and bath towels we would need for our stay. The furnishings were outstanding and the TV's and stereos made our stay very enjoyable. The grounds were beautiful and the pool was great. Of course the location is fabulous if you want to just walk to dinner. Overall our stay at the Wailea Beach Villa's that I booked through Maui Vacation Advisors was OUTSTANDING. I would highly recommend this property and your services to anyone looking for a fantastic vacation destination." - Scott Taylor, Redwood City, CA
"Our stay at Wailea Beach Villas was a good one. We enjoyed the accommodations and the atmosphere of the community. The beach is fabulous and the service from Maui Vacation Advisors was top drawer. On our departure my wife left a few personal items in the unit and Maui Vacation Advisors went out of their way to help us retrieve her items after we had departed. They called to follow up after our stay and performed like any 5 star hotel/facility you might frequent. I recommend Maui Vacation Advisors and Wailea Beach Villas to anyone wanting a quality place to stay on Maui." - Rich and Lorrain Krug, Dallas, TX
"We really enjoyed our luxurious Wailea Beach Villas holiday experience very much. The accommodation was stunning! I think my husband tried almost every kitchen gadget. Definitely beyond our expectations. He loves to cook and was in heaven with the kitchen. This location was fantastic for our family. We were able to enjoy the fabulous beaches and shopping. Grandma really appreciated being pampered with the staff setting up the chairs, towels and umbrellas on the beach for us. She loved every minute of our holiday. Me too!!! Our teens loved the beach, the pool and of course the wireless internet and televisions. The Penthouse Villa was extremely comfortable for our family of teenage children, us and also Grandma. We would certainly recommend this accommodation to anyone looking for a piece of heaven in Wailea with all the luxuries and beyond of a home. Maui is a most peaceful breathtaking island. I had a hard time coming home. Maybe next time we can arrange to stay longer. We thank you and the management team for an incredible accommodation. Great memories of a wonderful tropical island!" - Sharon Mavko, Alberta Canada